Killeen Veterinary Clinic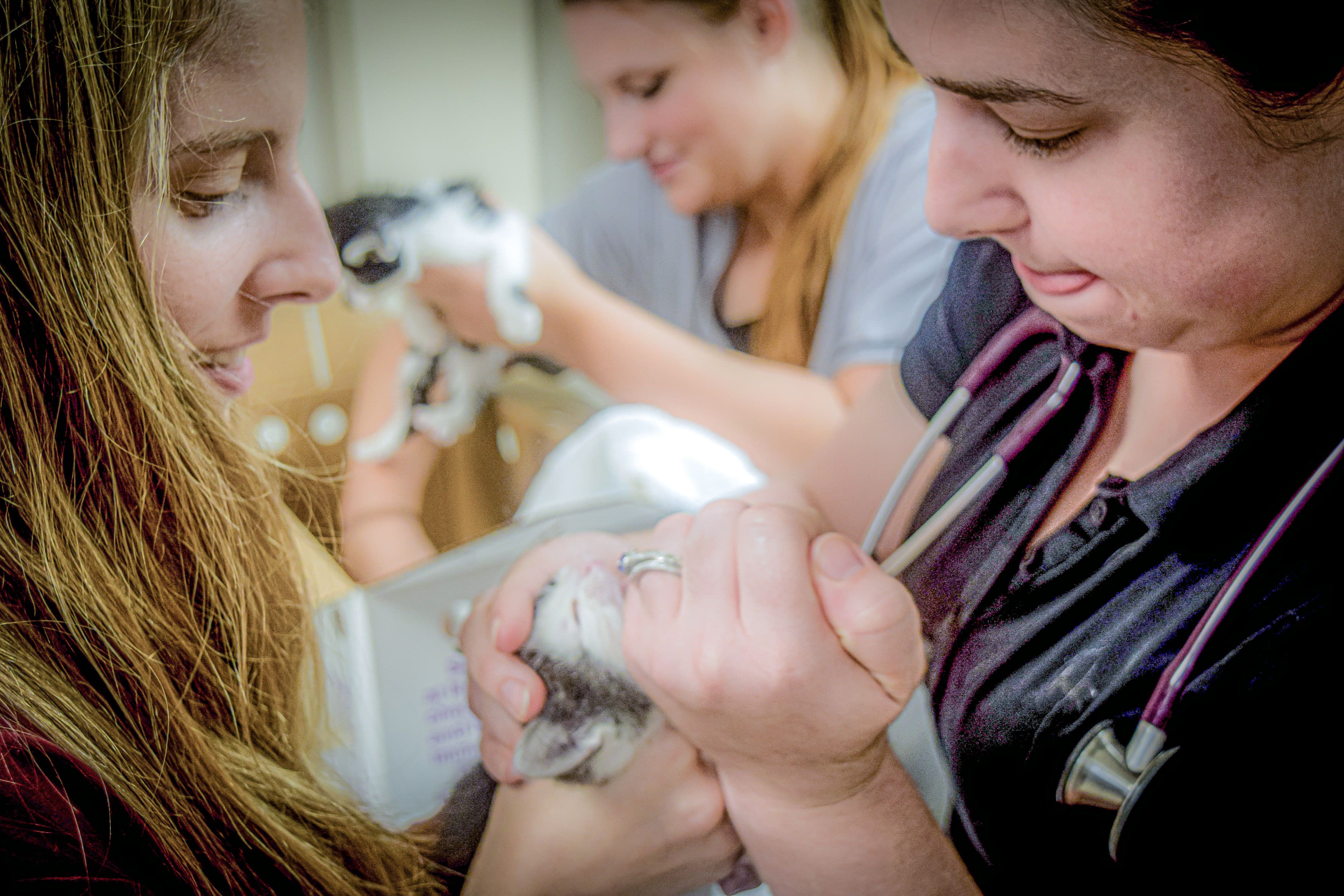 ​Killeen Veterinary Clinic welcomes you to our website!

We understand the special role your pet plays in your family and are dedicated to becoming your partner in your pet's health care. We treat your pet as we would our own. Our goal is to practice the highest quality medicine and surgery with compassion and an emphasis on client education.

Our entire healthcare team is committed to providing personal attention to the unique concerns of each individual pet owner. Thank you for taking the time to read about our veterinary practice and the services we offer. We welcome your comments and suggestions. Please contact us at (254)634-0242 for all your pet health care needs.

Killeen Veterinary Clinic in Killeen, TX is a full service companion animal hospital. It is our commitment to provide quality veterinary care throughout the life of your pet. Our services and facilities are designed to assist in routine preventive care for young, healthy pets; early detection and treatment of disease as your pet ages; and complete medical and surgical care as necessary during his or her lifetime.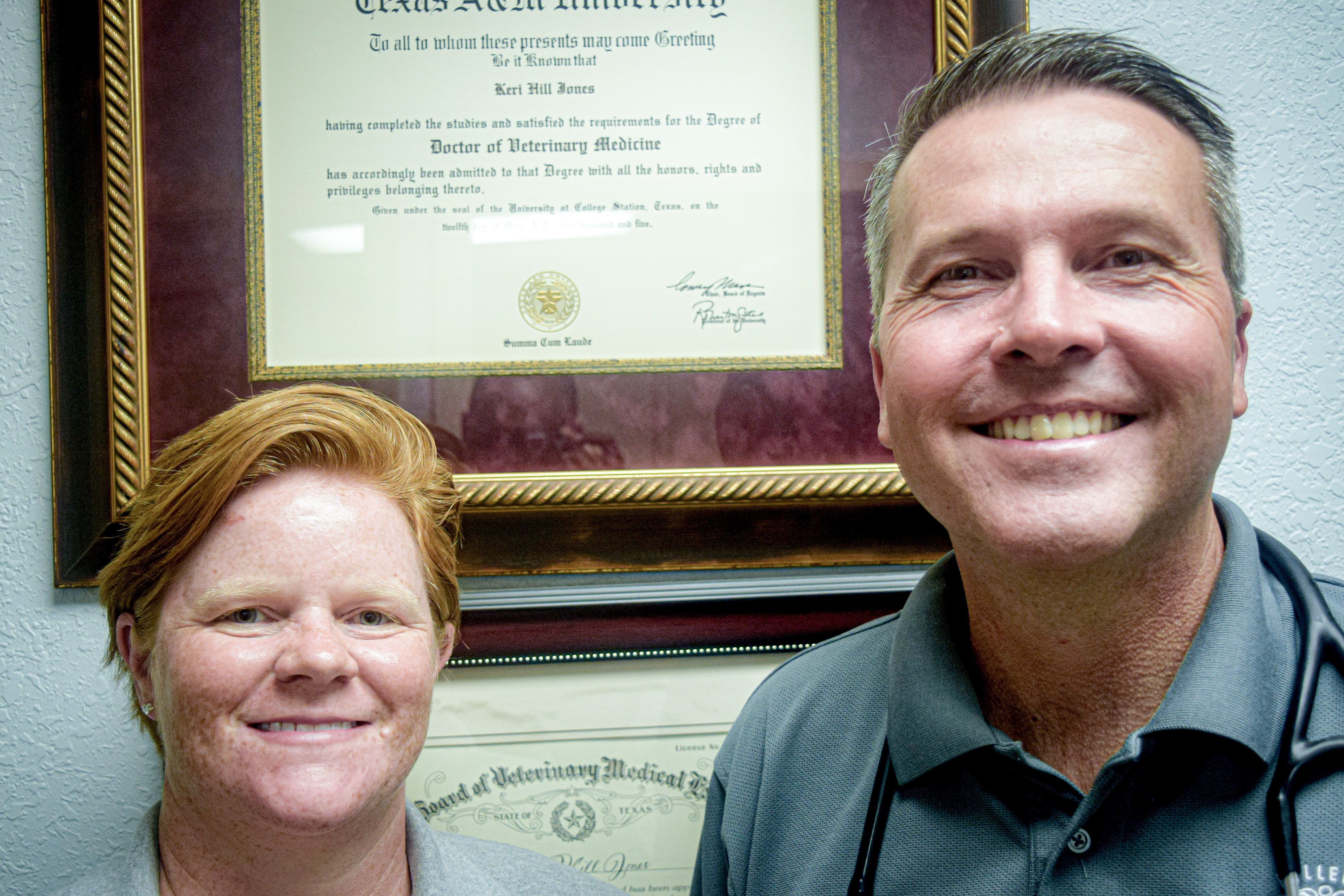 About Us
Killeen Veterinary Clinic has been proudly serving the Killeen/Ft. Hood area since 1961. Killeen Veterinary Clinic is a full service companion animal practice, offering the latest in diagnostic, medical, and surgical care for your dog or cat. We also offer boarding and bathing for your pets. We are committed to providing high quality, compassionate veterinary care to the pets of the greater Killeen area.
Our doctors and staff are deeply dedicated to the health and well-being of your pet. Killeen Veterinary Clinic has been voted the 2014 Best Veterinary Clinic in Central Texas by the Killeen Daily Herald.
Brad Buckley, DVM, Managing Partner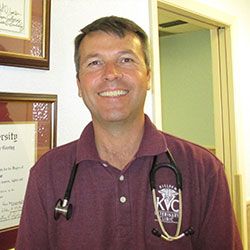 Dr. Brad Buckley serves as the Managing Partner of Killeen Veterinary Clinic. Buckley was born and raised in the greater Killeen area, attended school in Killeen and is a 1985 graduate of CE Ellison High School. He received a B.S. in Veterinary Science (Magna Cum Laude) in 1989 and a D.V.M. (Magna Cum Laude) in 1993 from Texas A&M University. Dr. Buckley provides a wide-range of professional services to his clients and patients with an emphasis on internal medicine and ultrasonography.

Having a strong belief in service to one's community, Buckley is a former member of the Killeen I.S.D. Board of Trustees, a past Chairman of the Board of the Greater Killeen Chamber of Commerce and a current board member of the Peaceable Kingdom Retreat for Children. He is also a member of the American Veterinary Medical Association, the Texas Veterinary Medical Association and the North Central Texas Veterinary Medical Association. Buckley's hobbies include raising, training and showing cutting horses.

Dr. Buckley, wife Susan and their children (Emily, Erin and Bo) share their Salado ranch with horses, cows, their cat Harvey, and their miniature Austrailian Shepherd Claire.
Keri Hill Jones, DVM, Managing Partner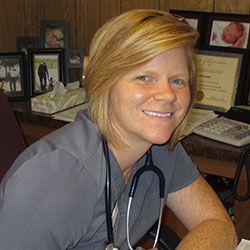 Dr. Keri Hill Jones graduated from Texas A&M University with an Animal Science degree (Magna Cum Laude) in 2001 and Texas A&M College of Veterinary Medicine (Summa Cum Laude) in 2005. Dr. Jones joined the staff at Killeen Veterinary Clinic in June of 2007 and became a managing partner in April 2015. Her interests include surgery, internal medicine, and client education. Keri is a member of the executive board of the Greater Killeen Chamber of Commerce as well as the I14 Forward Campaign. She is a member of the American Veterinary Medical Association, the Texas Veterinary Medical Association, and the North Central Texas Veterinary Medical Association.

Dr. Jones has been married to her husband Robert since 2003, and have two children, daughter Adison and son Asher. Their other children include Chewy, the blind Old English Bulldog, Olsen, the Yorkie, Bucky, the French Bulldog, Callaway, the Goldendoodle, cattle and a Clydesdale mare. In her free time, Dr. Jones enjoys spending time with family and friends, working on her farm, and watching sports, especially Aggie football.
Amanda Jones, DVM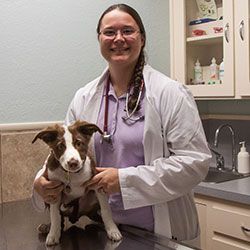 Dr. Amanda Jones graduated in 2014 from Texas A&M College of Veterinary Medicine (Cum Laude). She graduated in 2010 from Eastern Kentucky University with a Bachelor's in Biology and a minor in Chemistry (Summa Cum Laude). Dr. Amanda Jones enjoys caring for pocket pets and non-venomous reptiles. During her high school and undergraduate years, Dr. Jones was an active member of the American Rabbit Breeders Association and competed with her rabbits in conformation shows at the national level. Her other interests include preventative medicine, internal medicine and surgery. Dr. Jones is a current member of the American Veterinary Medical Association, the Texas Veterinary Medical Association and the North Central Texas Veterinary Medical Association. Dr. Amanda Jones joined Killeen Veterinary Clinic in September 2015.

Dr. Amanda Jones has been married to her husband, Marc since 2010 and have two sons, Russell and Daniel. Her pets include a Clumber Spaniel named Mulan, a cat, Tommy, 1 corn snake, and a retired Rocky Mountain Horse Mare. Her hobbies include reading, travelling, and embroidery.

Jordan Dutkiewicz, DVM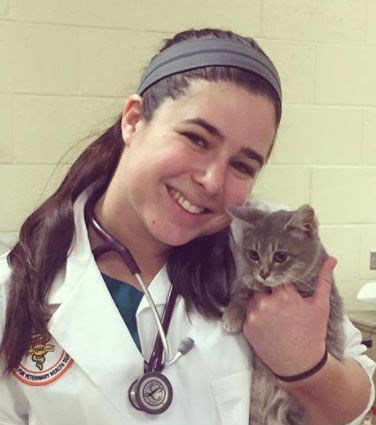 Dr. Jordan Dutkiewicz grew up in California and received her B.S. in Animal Science from California Polytechnic State University, San Luis Obispo. Dr. Dutkiewicz then received her DVM from Ross University in 2017. Dr. Dutkiewicz joined Killeen Veterinary Clinic in August of 2017. Her interests include dentistry, ophthalmology, ultrasonography, and internal medicine. Dr. Dutkiewicz is a current member of the American Veterinary Medical
Association and the Texas Veterinary Medical Association. Dr. Dutkiewicz married her husband, Dr. Corey Dutkiewicz, in April 2019. Her pets include her island dog, Loki, two Labradors, Eadmund and Fenrir, a cat named Freya, and her horse, Arthur. In her free time, Dr. Dutkiewicz enjoys riding her horse, reading, painting, working on improvement projects around the house, and spending time with family.

Charlotte Russell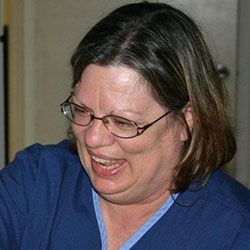 Charlotte Russell has been the Office Manager at KVC since 1994. She has over 25 years of managerial experience in veterinary hospitals. Charlotte has the job of keeping the clinic running smoothly on a daily basis as well as being available to assist receptionists, technicians, and doctors when needed. Charlotte enjoys raising and showing Australian Shepards, spending time with her family and friends, as well, as watching Rangers Baseball, and traveling and visiting Disneyworld.

Jaime Dew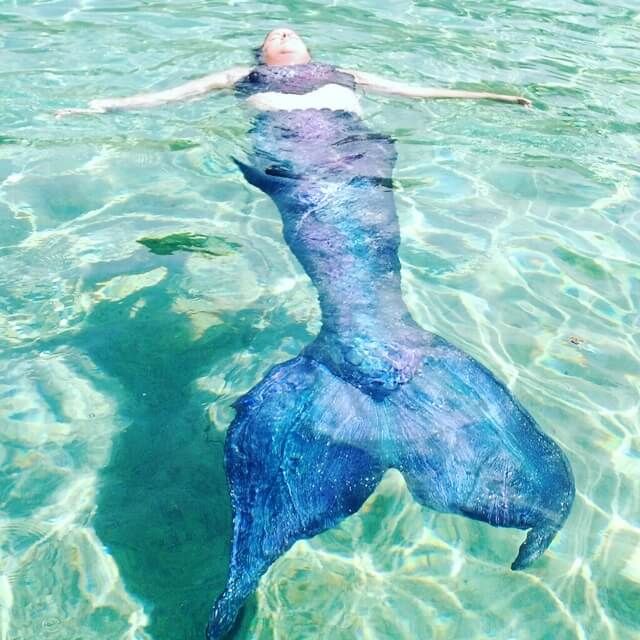 Jaime Dew works in the afternoon and on the weekends at KVC while she is a library aide at Montague Elementary School during the day. She started working at KVC in May of 2006. Jaime is a very compassionate person and can always make you feel better no matter what the circumstances. She excels in client education and comforting pets and clients. Jaime spends her free time with her two cats Frenchie and Rizzo and her ball python, Spot. She enjoys horses, reading, and writing stories and mermaiding when she is not at work.

Zack Seyler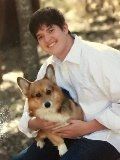 Zach Seyler joined the staff of KVC in August of 2013 after volunteering for several months. Zach is currently attending Texas A&M University and is a vet student at the College of Veterinary Medicine. Zach grew up around dogs and cats and has always loved helping and caring for animals. He is a great assistant and enjoys surgery and dental treatments. In his free time, Zach enjoys hanging out with his friends and caring for his dogs and cats.

Gabriel Arroyo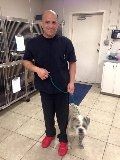 Gabriel joined the staff of KVC in January 2015. He was born in Puerto Rico and has been a veterinary technician since 1999. He has a daughter named Victoria and a son named Gabriel Jr. Gabe enjoys riding horses and participating in roping competitions. He is pictured here with his bulldog Papi.

October Nelson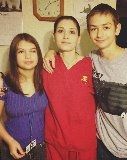 October joined the staff of KVC in March 2015. This is October's first job in the veterinary field, but is quickly learning and excelling. Her hobbies include spending time with her kids and husband, reading a good book, and playing with her dogs Shadow and Finn. October and her husband are originally from a small town in Montana but have been in Texas for several years now.

Tanner Dutton
Tanner graduated from Killeen High School in 2016 after attending the KISD Career Center where he received his Certified Veterinary Assistant degree. He is currently planning on pursuing a degree from Central Texas College. He started his employment at Killeen Vet Clinic in May of 2016. He has 3 dogs at home, Maggie, Frannie and Louie.

Jessenia Rodriguez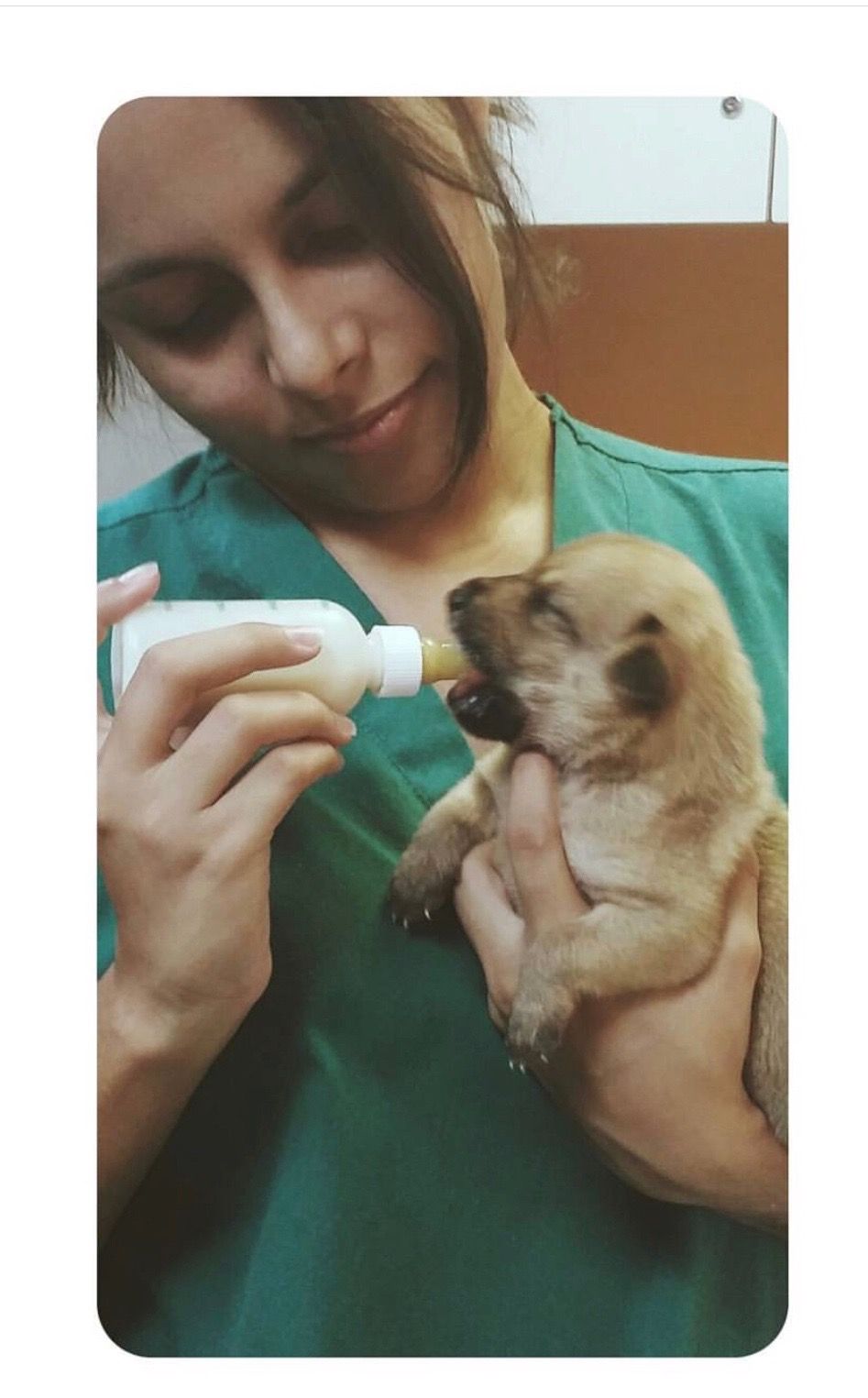 Jessenia moved to Texas from Puerto Rico in January 2018 after volunteering at Vets 4 Pets. Jessenia graduated from PPG Technical College in 2017 with her certification as a vet assistant and in February 2018 she joined us here at KVC as a veterinary technician. Jessie is extremely thorough and always has a smile for everyone who comes in our doors. In her spare time she enjoys spending time with her friends and family.

Kymberli Nock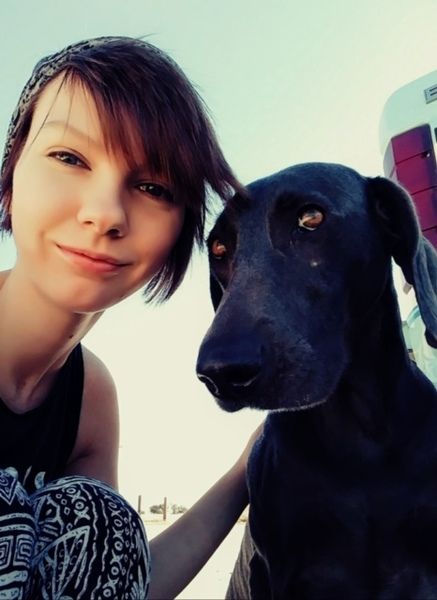 Kymberli graduated from Ellison High School with her CVA Certification in 2014 and is currently pursuing a degree at Central Texas College. Kymberli enjoys hiking with her dogs, Dixon and Luna. She also enjoys training and racing horses in her spare time. Kymberli lover animals. She has 3 dogs, 2 cats, and 2 horses.

Imani Truss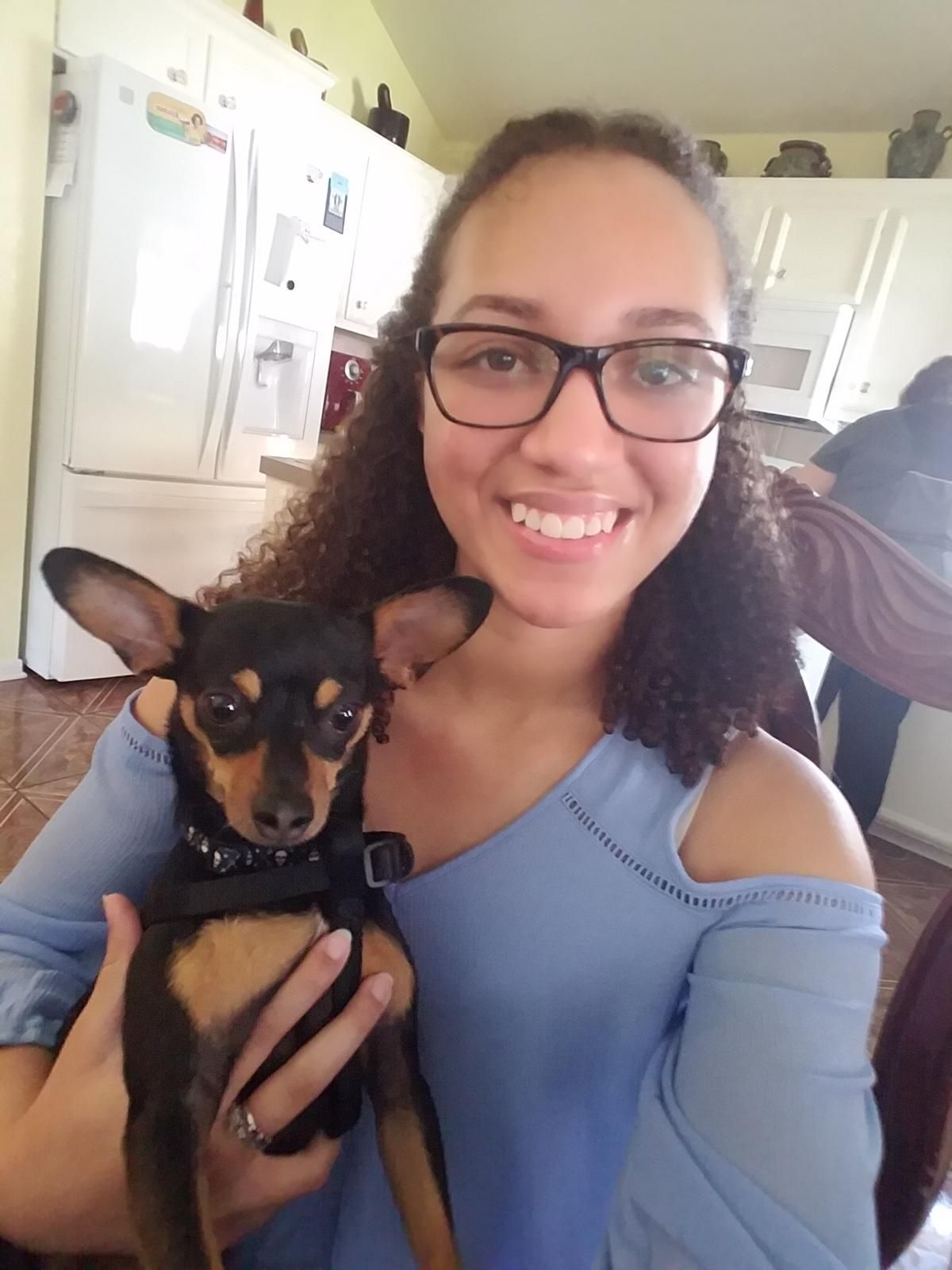 Imani graduated from Killeen High School with the Class of 2018 having earned her Veterinary Assistant Certification through the Killeen Career Center. She hopes to pursue veterinary medicine at a later date and is currently attending Sam Houston State University. Imani has a compassion for all animals, and greatly excels with small mammals and exotics. In her spare time, Imani enjoys the new experience of raising her rabbits and reading a good book.

Kevin Nelson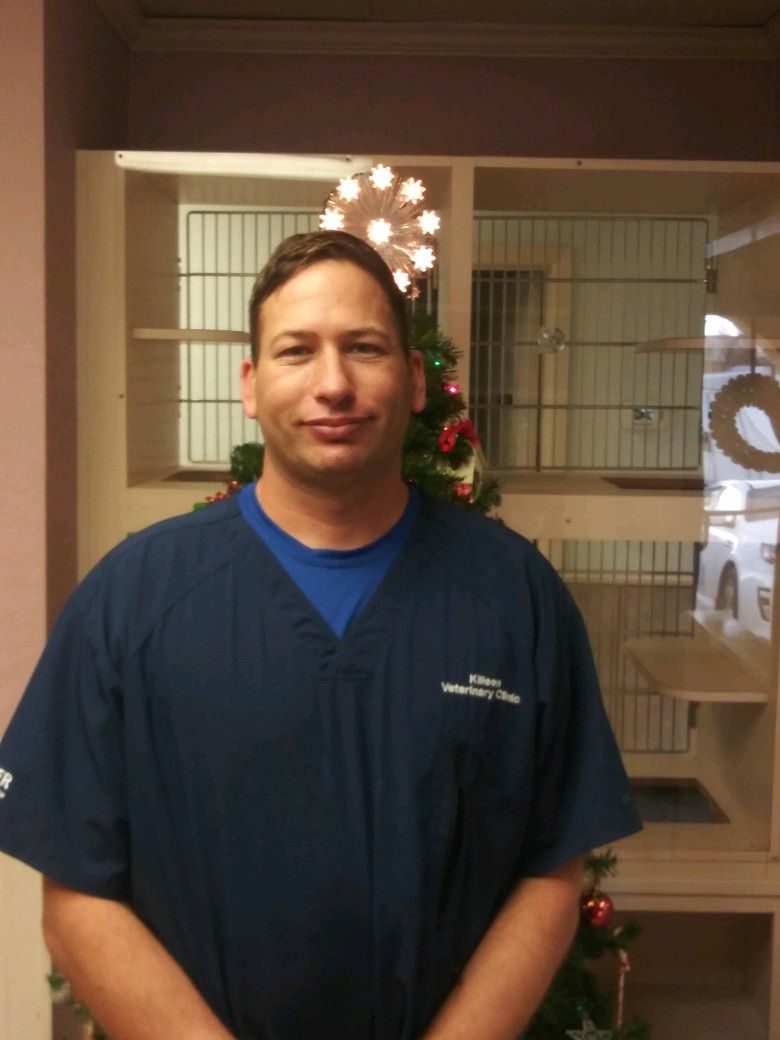 Kevin was raised in Montana and made Texas his home after leaving the military in August of 2015. As the kennel technician for Killeen Veterinary Clinic he is extremely passionate about meeting the needs of all the animals that he is responsible for. Since starting at KVC he has learned a great deal and is always eager to learn more. In his spare time Kevin likes to spend time with his wife October, his children Jayde and Brice and their 2 dogs Shadow and Finn. He likes to travel and watch a good football game.

Catherine O'Donnell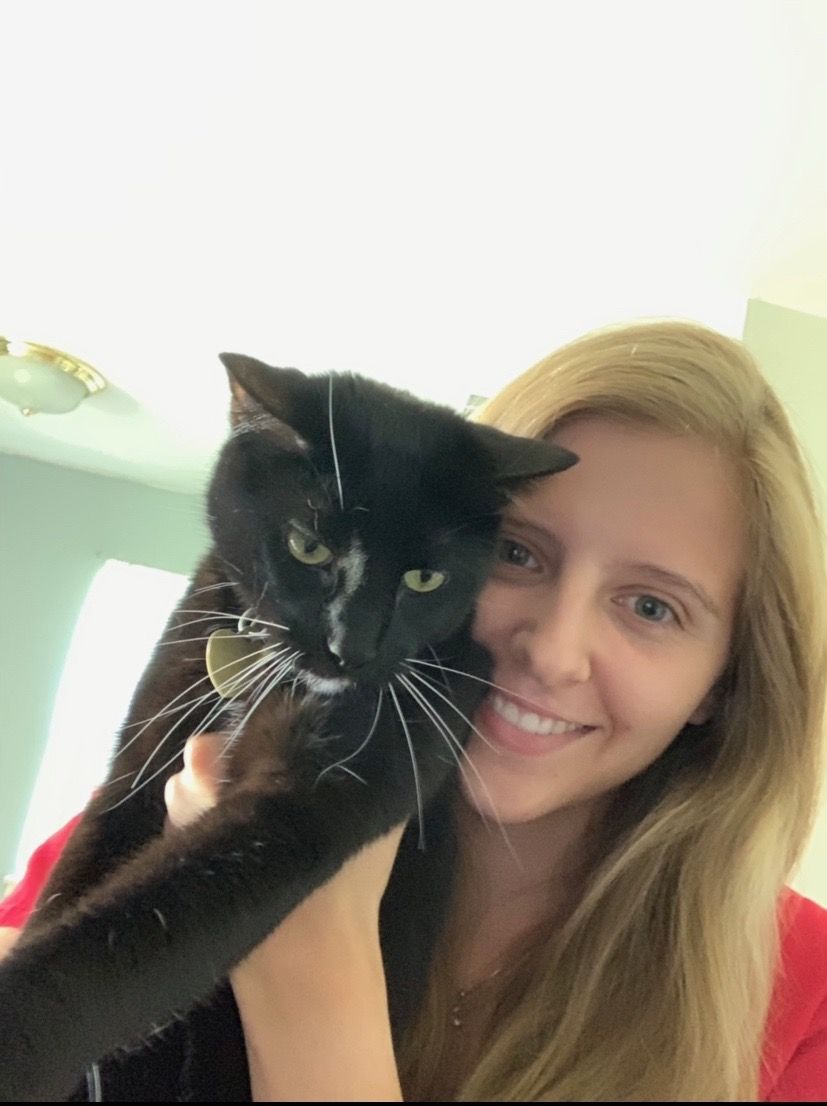 Catherine, or "Cat" as she is otherwise known, joined us from California where she grew up and was an active member of 4-H and FFA from a young age. She attended Carrington College and received her certificate in Veterinary Technology and her Associates Degree in Animal Science. Catherine has experience with large animals, exotic animals, pocket pets, and focuses on dogs and cats. She enjoys traveling, time with friends and family, and her pets Selma and Boots.

Morgan Sheets
Morgan was raised in Ohio and was brought to Texas in April 2019 after leaving the military. In her spare time, Morgan likes to spend time with her husband as well as both of her dogs, Shadow and Bailey, her cat, Bean, and her horse, Ivy. Morgan graduated from Butler Tech for Equine Science. She has always loved animals and aspires to become a veterinarian, herself, in the future.

Mario Castillo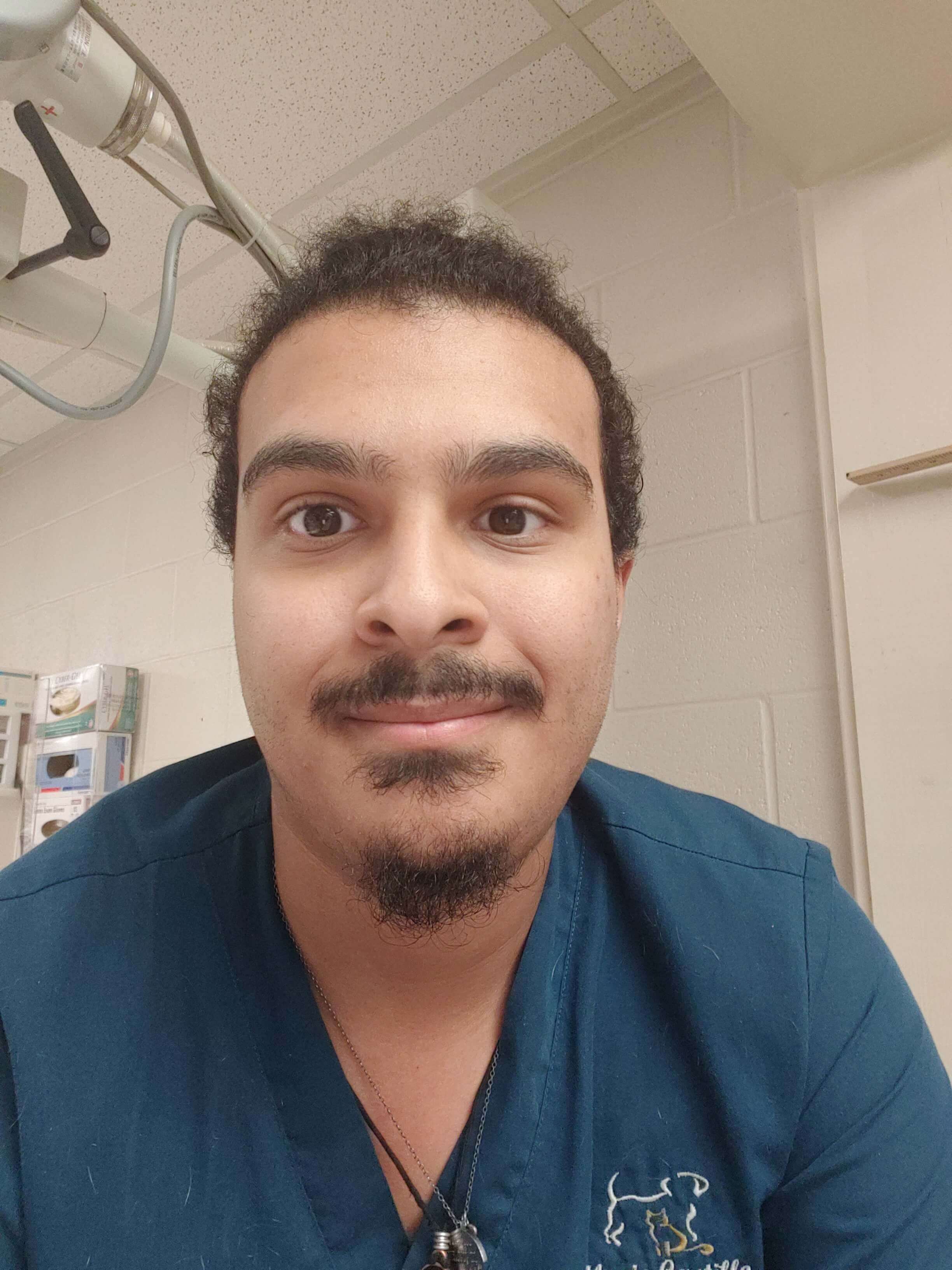 I'm Mario Castillo, I graduated from Shoemaker High School, Killeen, in 2019. I also got my CVA Certification from the Killeen Career Center. I've been an intern at KVC since I started working on my CVA, and out of high school was offered employment at KVC. I'm still new, but I'm getting the hang of everything and learning everything I can before I go to college to further my studies in Veterinary Medicine. I have a little kitten named Monet that stays with my girlfriend, who I love to be with in my spare time. I've always been with animals throughout my life, from having dogs, cats, turtles, and a small flock of birds in the house. I hope to learn and experience more as I continue my career in this field.

Angela Migneault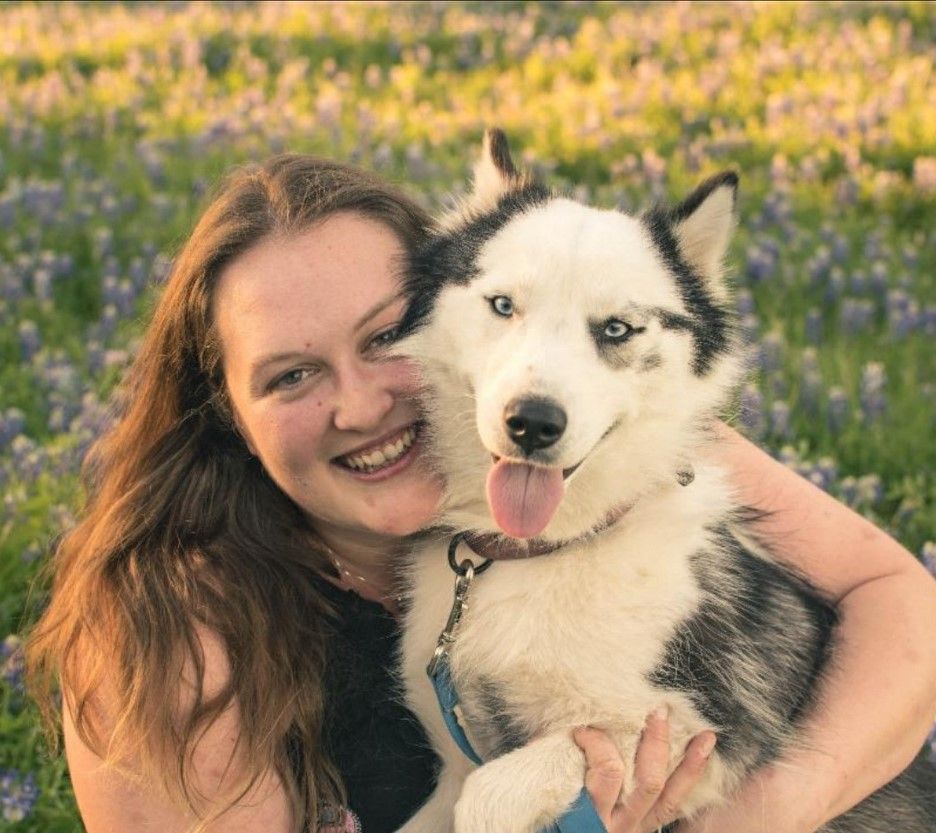 My name is Angela and I moved to Texas from Colorado with my husband who is in the army. I'm currently in school to become a vet tech and my passion is a love for animals. I have 4 dogs and 4 cats that constantly keep me on my toes. I look forward to caring for any animal that comes in as if it were my own.

Samantha Thurston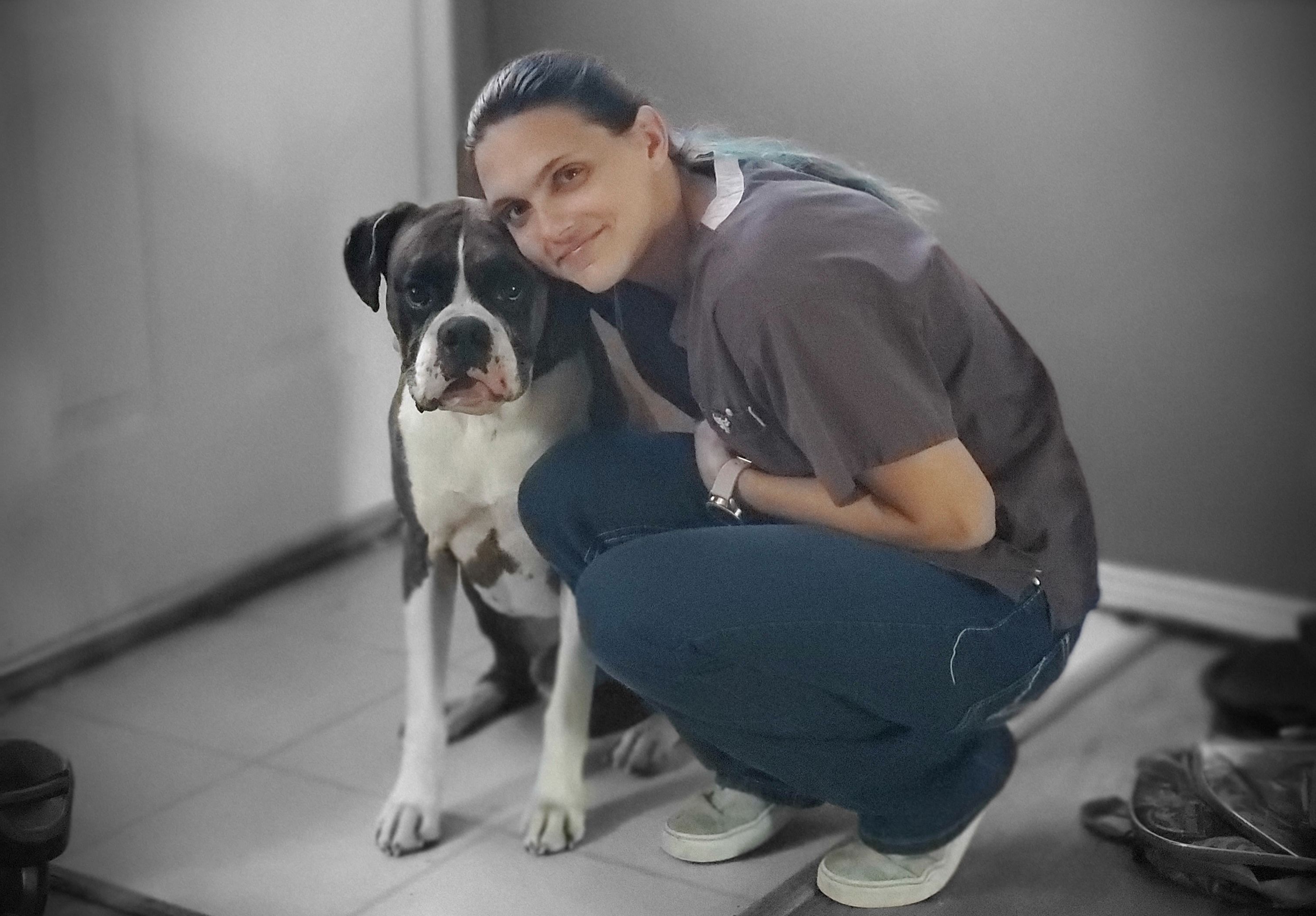 My name is Samantha Thurston. I'm a mom of 2 awesome kiddos, get to marry my best friend 7/4/20, I have worked with animals my entire life, from showing horses to grooming dogs. I am a certified equine sports massage therapist. I love to ride and train horses in my free time and spend time with my 5 doggos, my cat, and my kiddos!

Brittaney Perkins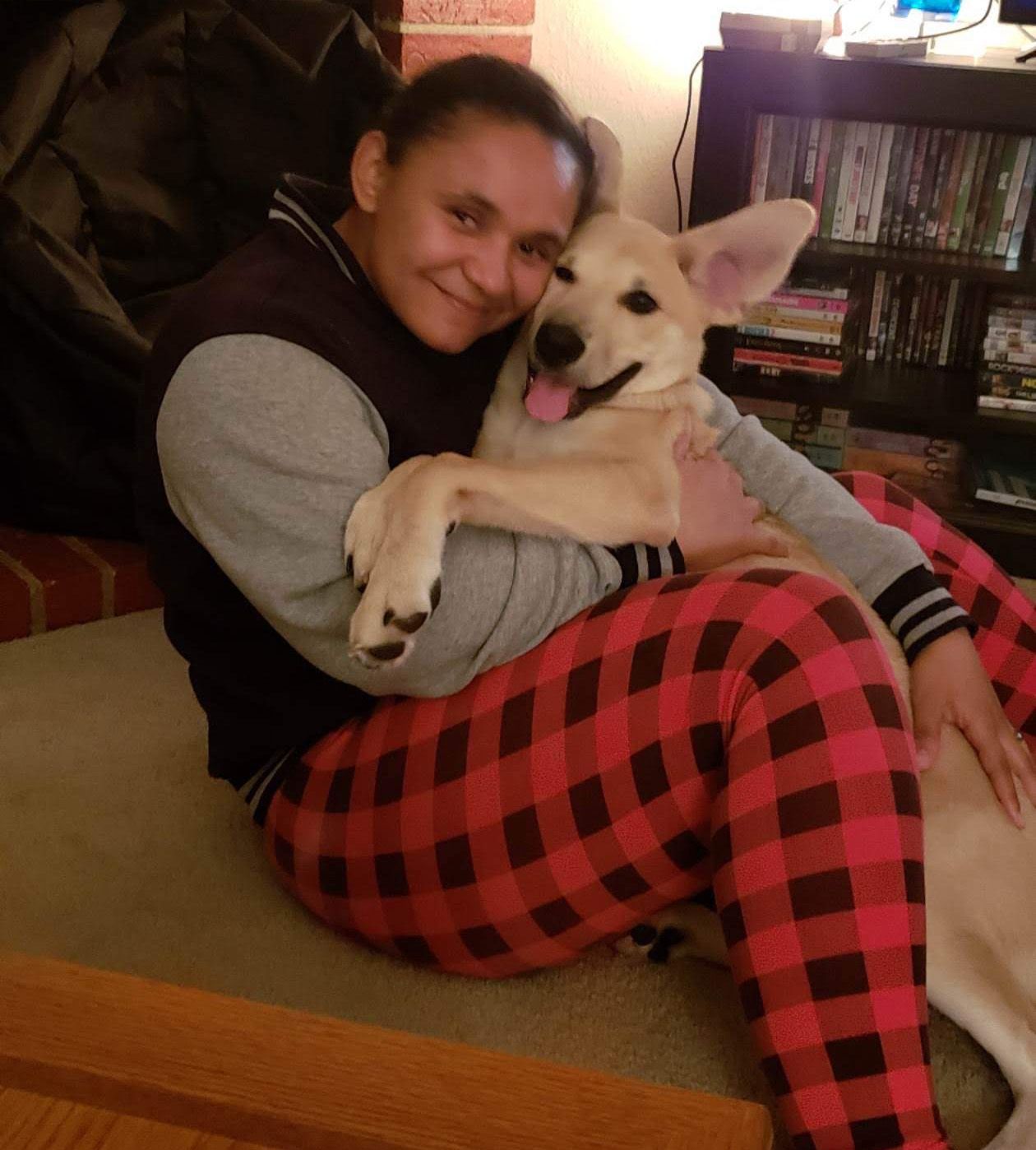 Brittaney Perkins joined the KVC team in November 2019. She moved to Texas in 2017 and has 2 dogs named, Skittles and Snickers, and a cat named, Pharroh. She enjoys spending time with them and watching her cat steal her husband's food. She was enlisted in the army for 2 1/2 years and while in the army she did an internship at the vet clinic on base. Brittaney enjoys meeting new people and learning new things to apply to her everyday life.

Please call if appointment is
​needed in less than 24 hours
​